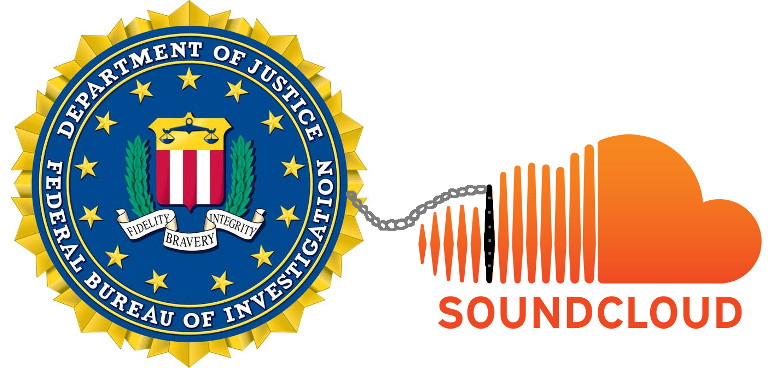 It seems SoundCloud, the German-headquartered music and audio distribution platform, isn't such a fan of people using its site to defend free speech or transparency, even when such uses comply with the laws of Germany and the country of every party involved in recordings posted on its site. Or at least, not when one of those parties is the FBI.
In the course of my dealings with law enforcement handling subpoenas and legal orders for user information on cock.li, I make every attempt to make the process as transparent as possible for my users. This includes publishing phone calls, subpoenas, and E-mails I have with law enforcement. One extra step I often take is to live broadcast calls with law enforcement via Mumble so that in the event I am later gagged from discussing a matter, the subpoena or even the gag order itself may already be public knowledge and people outside the grasp of the order may be able to independently inform people of the event.
This precaution came dangerously close to becoming reality in September 2016 when the FBI called during the course of submitting a subpoena requesting records from cock.li. During this phone call, the FBI asked for information regarding an incoming Non-Disclosure Order (NDO) that would prevent me from upholding my privacy policy if submitted. The FBI was informed at the beginning of the conversation that the call was being recorded, and when he brought up a pending NDO I explained to him that there were other parties listening which would not be barred from disclosing the existence of the subpoena under the NDO.
When the phone call was over, one of the listeners and a friend of mine, Skipper Blue, informed me that he had recorded the phone call, and intended to publish it. Skipper proceeded to publish the call on SoundCloud and share it with cock.li users. Hooray for transparency! That is until recently, when SoundCloud removed the recording from its site by request of the FBI.
On February 3, Skipper received an E-mail from SoundCloud informing him that his recording had been removed from the website. SoundCloud cited two items in its terms of service as reasons for doing so:
Your Content and the availability thereof on the Platform does not and will not infringe or violate the rights of any third party, including, without limitation, any intellectual property rights, performers' rights, rights of privacy or publicity, or rights in confidential information.
You must not use the Platform to upload, post, store, transmit, display, copy, distribute, promote, make available or otherwise communicate to the public:
any information, Content or other material that violates, plagiarises, misappropriates or infringes the rights of third parties including, without limitation, copyright, trademark rights, rights of privacy or publicity, confidential information or any other right; or
It's not clear what "rights of privacy or publicity" a public officer in the United States has, in fact legally speaking these "rights of privacy" with public servants most of the time simply extend to wiretapping laws, which the recording in question followed in the United States, Romania, and Germany. This ability to discuss communications with law enforcement is a basic tenant of a free society, which is apparently of no concern to SoundCloud. To add insult to injury, SoundCloud said in order for the track to be reinstated, they "would require that you provide us with evidence that you have the necessary consents for both the recording and publishing of this content (e.g. signed release form)."
Somehow I don't think getting a signed release form from the FBI is a likely outcome.
Still, though, it's hard to imagine what the standards for "consent" are when all parties were informed at the beginning of the call that the call was being recorded, and both parties agreed to continue the call. This is inherently consent and is the legal basis for wiretapping laws in almost every country. In fact, this was mentioned in our response to them, since their E-mail was so lacking in details:
can you explain to me why informing all parties of the recording, receiving their acknowledgement, and deciding to continue the conversation anyway does not constitute consent according to Soundcloud?
It took almost a month to get a response from SoundCloud, but today both Skipper and I received this E-mail:
In order for a recording of a private conversation (such as a telephone call) to be permitted on SoundCloud, all parties involved in the recorded conversation must consent (in writing) to both the recording and publication of the conversation in question. While all parties may have been aware that the call was being recorded, this is not the same as giving permission for a conversation to be made publicly available.

As we were made aware that one of the parties did not give their consent for the publication of this call, we removed the track from your account. As such, we will not be reinstating this content to your account.
This interpretation of this policy has dangerous ramifications: It essentially eliminates the possibility of using SoundCloud for journalism. Will SoundCloud remove the recordings of countless journalists whe use their site to host undercover recordings? In just a few short minutes of searching I found undercover recordings regarding the Dakota Access Pipeline, workplace racism, and Uber's CEO discussing sexism at his company, none of which consented to the recording or the publishing of the recording. Will this policy be enforced across the board? Will Soundcloud remove the thousands or more of consentual or legal undercover recordings that journalists rely on to do their job? Or is this privilege reserved for the United States Government? The answer is unclear, and the response from SoundCloud leaves its future as a tool for journalists in serious doubt.
Finally, it's important to note that in the end the FBI did not submit a non-disclosure order, and I am not barred from discussing the subpoena. You can listen to the recording from my side above, or view the raw materials including the subpoena, both phone calls, and Skipper's removed recording on Cock.li's transparency page here.